Warming Oceans
We're Havin' a Heat Wave
It would logically follow that the higher air temperatures experienced in recent decades warms sea surface temperatures as well. Trust your logic on this part of the climate change landscape. It does.
Globally, the ocean has been warming consistently over the past 50 years, with 2007 as the warmest year on record.
Since the 1970s, the annual average temperatures for the nearby waters of the New England coast (Woods Hole, Massachusetts and Narragansett Bay) have increased.
University of Rhode Island scientists found variability in the annual mean sea surface temperature in Narragansett Bay, but estimated that winter sea surface temperatures have risen 4°F since the 1960s.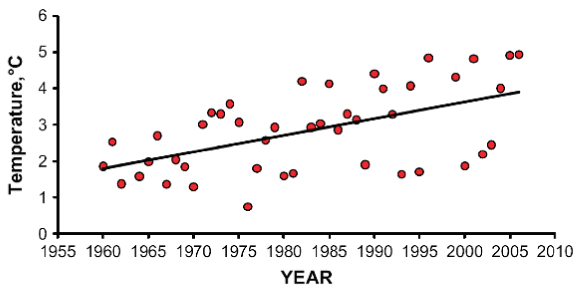 Consider: If your body temperature rose four degrees to 102.6°F, wouldn't you be reaching for the aspirin? And wouldn't your bones ache, your head feel hot, your body get all sweaty and clammy? Well, the Earth's oceans aren't feeling so good either, but nobody is even suggesting fluids and bed rest. We don't give our oceans a break. We expect them to remain high performance no matter how sick they are.
The Impacts of Warmer Waters
Warmer water temperatures have an impact on regional ecosystems, and the complex and vibrant life they contain and sustain. These ecosystems are not only natural resources, but vitally important economically and socially.
The marine environment is very sensitive to changes in sea surface temperature. Increasing temperatures affect the distribution and reproductive success of many marine species, such as the winter flounder, which used to be prevalent right here in Narragansett Bay. Cod may or may not have been overfished, but they are not so happy with a warmer Bay and if they rebound, it won't be in Rhode Island waters. They will likely migrate to cooler waters in the north.

Warmer waters may change the seasonal comings and goings of certain fish, as well as offering a newly created receptive environment for different forms of marine life. For example, an increase in the number of jellyfish in Narragansett Bay may be seen as they find more food sources and are attracted to the warmer habitat. And higher sea temperatures are partially responsible for harmful algal blooms, marine diseases, and the spread of invasive (non-native) species.
On the other hand, out on the sea, shorter, warmer winters and reduced icing on fishing and transport vessels' gear and structures becomes a benefit to winter navigation, shipping and the commercial fishing industry, and those who work in it. But is the tradeoff worth it from a habitat and economic perspective?
"Again last night I had that strange dream/ Where everything was exactly how it seemed/ Where concerns about the world getting warmer/ The people thought they were just being rewarded/ For treating others as they'd like to be treated/ For obeying stop signs and curing diseases/ For mailing letters with the address of the sender/ Now we can swim any day in November"
- The Postal Service, Sleeping In
---
News
More News

---
Factoids
Rhode Island water temperatures have increased by an average of 2.2°F since 1970, causing noticeable range shifts in Narragansett Bay's native marine species.
Out of 36 US Atlantic coastal fish species, 24 have been affected by higher water temperatures.
By 2100, sea surface temperature in the US Northeast is expected to increase by 4-8°F depending on emission scenario.
---